Here at our Omaha workers' compensation law firm, we spend a lot of our time interacting with two specific groups of people: injured workers and insurance adjusters. Through our work, we often uncover miscommunications between insurance companies and our clients, or communications that lead injured workers down the wrong path. This is why we advise all clients and potential clients to speak to an attorney before they give any statements to their insurance company or engage in any other correspondence with the insurance company.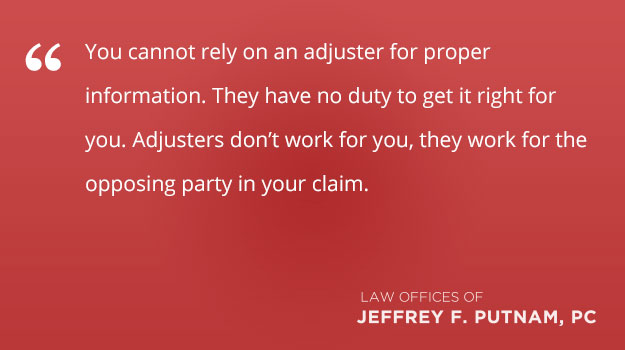 In our line of work, we have witnessed insurance companies sending letters, making phone calls, or otherwise contacting injured workers to relay information that is not necessarily accurate. Some examples of information that can be provided by your insurance company that you should ask an attorney about before accepting as fact include:
Statements saying who you need to use for a doctor
Information saying what your case is worth or what you are owed while you are off work
Correspondence saying your case falls under the laws of a specific state
Statements that your claim is not worth anything or that you do not have a valid claim
In some cases, this information may be accurate. But if it is not accurate, and you rely on this information, you could be giving up your ability to file a valid workers' compensation claim.
Why Would My Adjuster Give Me Bad Information?
It's easy to speculate about reasons that an adjuster might have for providing bad information to an injured worker, but in many cases, there is no real motive behind the misinformation. Many workers' compensation adjusters handle multiple states and they simply get the legal analysis wrong. In other cases, it could be a result of adjuster turnover – when a new adjuster is assigned, or an inexperienced adjuster is assigned, they aren't familiar with the facts or the law and they provide incorrect information.
Regardless of the reason for the information, the important thing to remember is this: You cannot rely on an adjuster for proper information. They have no duty to get it right for you. Adjusters don't work for you, they work for the opposing party in your claim. As friendly as they may be to you, you have to remember that they are not in the role of being your advocate, nor do they have the legal background to advise you on what you should be doing in your claim.
If you have questions about your work injury and your workers' compensation claim, don't get your information from the other side. Call our office and we will be happy to speak to you about your claim and answer any questions you may have about the legal and factual issues surrounding your work injury and your related workers' comp claim.